Parent View
''Wonderful school with very hardworking teachers and staff, making every effort to provide the best to students in every field.' WJA parent
In December we sent all parents and carers a link to a questionnaire. We were very grateful to receive 143 responses. From those we were able to calculate percentages, compare these with schools nationally and act upon some of your comments to make our school a better place. These are detailed below.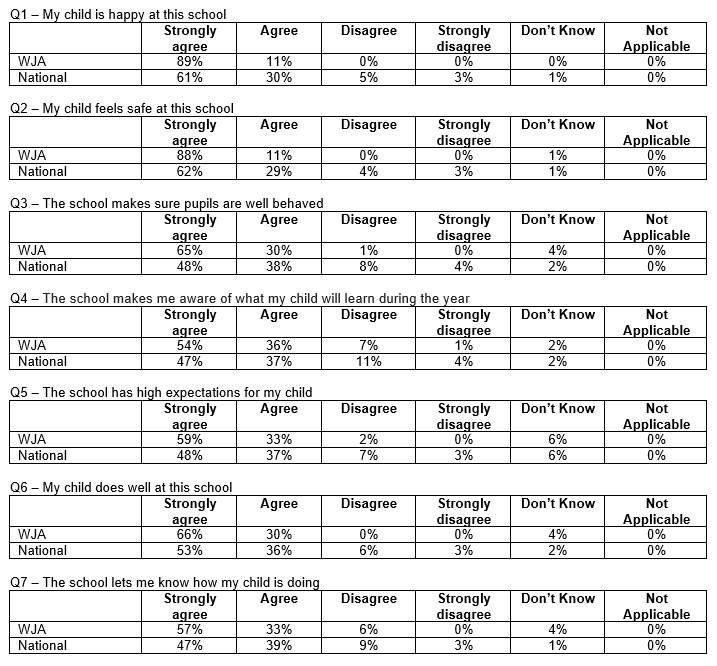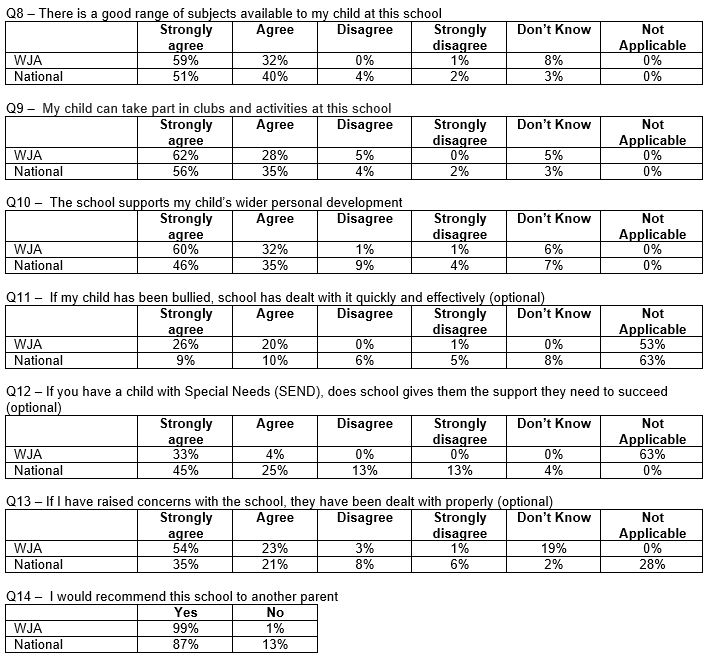 Full details of the results and the next steps we are putting in place as a school can be found in Mrs. Keeton's 'Questionnaire Outcomes' letter below.
Once again, as we work together to make our school a better place, we thank you for your time in responding to the questionnaire.
'My daughter loves going to school! She loves her teachers and is very happy within her class. She has lots of lovely friends and feels settled here. She has come on so much with her writing, reading & building her confidence up with thanks to the wonderful teachers!'
'We have noticed the difference in our son since starting at Waverley Academy. He really enjoys coming to school, is engaged and enthusiastic about things and often explains to us what he has been doing at school, giving us facts that he has learnt. His teacher has been absolutely fantastic and supportive and has really got to know him and what additional support he needs in certain areas and all of this in a considerably short period of time, whilst in a new school set up!
Share your views through Parent View
We have been very pleased with the feedback from our previous parent surveys and have added a new system to gather the views of parents and carers.
You can give your views of our school at any time of the school year and at the time of a school inspection using an online questionnaire called Parent View.
Please register with an email address and a password at http://parentview.ofsted.gov.uk.
Once your login has been activated, it only takes a few minutes to complete answers to 12 short questions about aspects such as bullying, the quality of teaching, level of homework, etc.
Your views are important in helping inspectors make a decision about our school, and to help us know what is going well and what could be improved.
If you do not have a computer or an email address or if you would like help to use Parent View, please come into school and ask at reception. Below is a guide to the use of Parent View.
How to use Parent View
1 Go to Parent View by clicking on http://parentview.ofsted.gov.uk
2 Click on the orange jigsaw piece 'Give your views now'
3 Register using your e-mail address.
4 You will be sent a password by e-mail.
5 Log in to Parent View using your e-mail address and the password sent to you
6 Click on 'give your views' on the tool bar near the top of the screen.
7 To find us enter 'Springwood', then click on the correct school.
8 There is a question to answer about your use of Parent View then 2 boxes to tick.
9 You will now be asked 12 questions, one at a time. You make a response from 'strongly agree' to 'don't know' by ticking boxes.
10 Submit your answers. You can update these at any time in the future and have previous responses over-written.
Thank you for helping the school by adding your responses to Parent View – this will be very useful for us.